| | |
| --- | --- |
| | |
| FORT PULASKI, GEORGIA, ONE OF THE SITES VISITED BY THE CAP MARINES DURING THE 2000 REUNION. | CANON AT FORT PULASKI |
| | |
| RICK YURICK IN FRONT OF A DISPLAY AT THE PARIS ISLAND MUSEUM, NOTE THE CAP EMBLEM. | VIETNAM DISPLAY AT THE MUSEUM |
| | |
| DISPLAY OF A JUNK ON THE BUNK INSPECTION AT THE MUSEUM. THE LADS SAID, "BEEN THERE.... DONE THAT!" | THE LADS AT VFW POST #500 IN SAVANNAH, GEORGIA |
| | |
| KEITH AND HIS BUDDIES TOOK RICK TO THE POST. | LENNY AND LYNN PUGLIESE AT THE REUNION. |
| | |
| THE ORGANIZERS OF THE 2000 CAP VETERANS REUNION | SCENIC SAVANNAH, GEORGIA |
| | |
| ONE OF THE COUPLES AT THE REUNION. IS THIS 'BAD AL' AND POLLY HAWK?. | RICK AND HIS FATHER WHO IS 90 YEARS OLD |
HIS STEPMOTHER WHO IS ALSO 90 YEARS OLD

ON THE CRUISE, RUSSELL LONGAWAY IN THE CENTER

AT THE REUNION ONE OF THE LADS AND A GIRL, DOES ANYONE KNOW THIS COUPLE'S NAMES.

WHO IS THIS GUY IN THE PICTURE.

PAT AND SUSAN MORRIS, FROM NEBRASKA.

PAT WAS WITH DELTA 2 DURING 1967.

KEN SCROGGINS AT DINNER

PHIL OVERMAN CLOWNING AROUND WITH FAKE TEETH

RICK AND DOUG McCULLOM FROM ST. PAUL, MINNESOTA. DOUG WAS WITH CAP 2-3-4, THE OLD DELTA CAP UNITS.

NOT MUCH LIKE C RATS ON A SANDBAG

RICK AND ONE OF THE LADS, NAME UNKNOWN, BESIDE THE MARINE MEAN MACHINE.
| | |
| --- | --- |
| | |
| NOTE THE PRAYER ON THE WINDSHIELD TO THIS DAY THAT'S THEY WAY MOST OF US REMEMBER IT. | THE PARIS ISLAND POST EXCHANGE |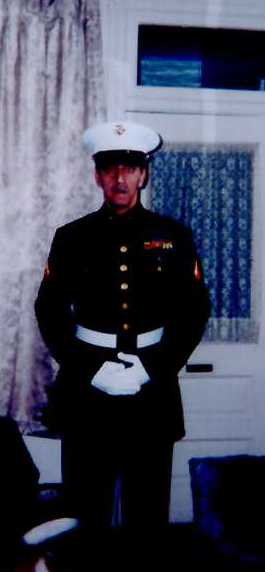 RICK THE OLD BUT PROUD MARINE. SOME US CAN'T BELIEVE HE CAN STILL FIT INTO THOSE DRESS BLUES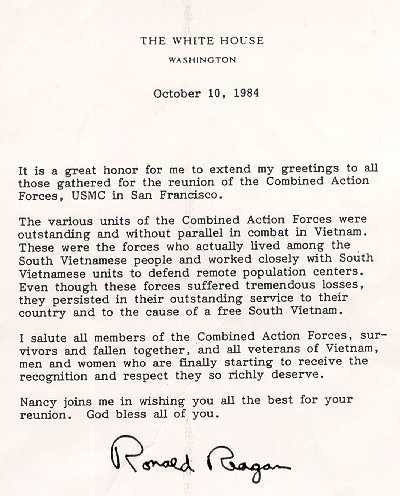 LETTER FROM PRESIDENT REGAN TO THE CAP MARINES' REUNION IN 1984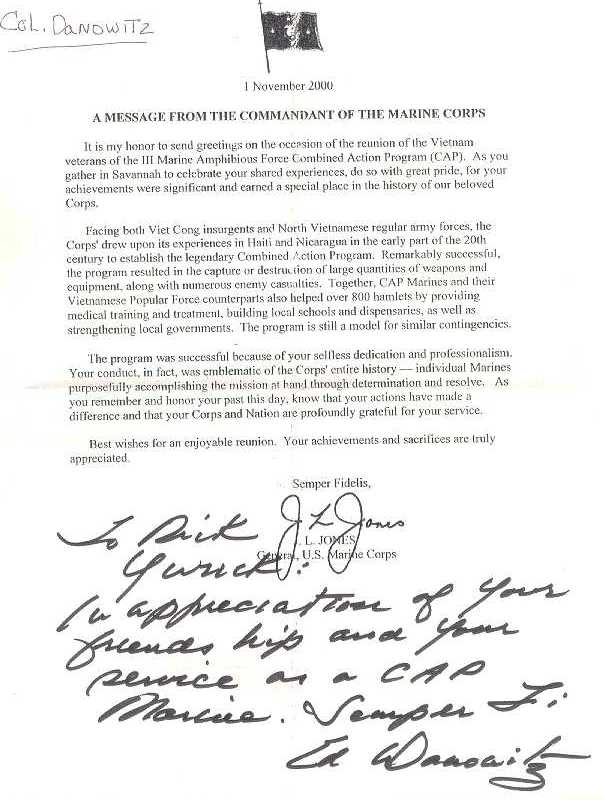 RICK YURICK'S KEEPSAKE FROM THE 2000 REUNION, A LETTER FROM GENERAL JONES WITH A NOTE FROM COL. DANOWITZ