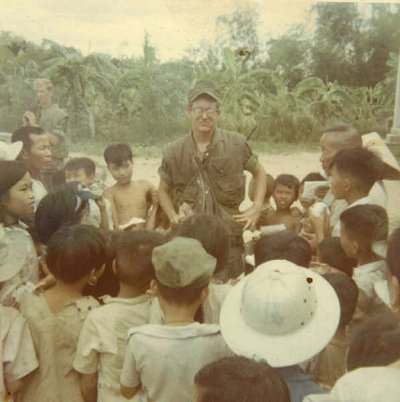 RICK WIEGAND COOKING FOR THE VILLAGE KIDS
RICK IS AT A LOCAL SCHOOL COOKING FOR THE LOCAL VIETNAMESE KIDS AT A SCHOOL. THE MARINES WERE TOLD BY THE KIDS THE SCHOOL WOULD BE BLOWN UP DURING THE NATIONAL ELECTIONS. THE MARINES AMBUSHED THE NVA AND THAT ACTION RESULTED IN RICK'S VIETNAMESE CROSS OF GALLANTRY. RICK WAS WITH CAP 2-3-4 DURING 1969. CAP 2-3-4 WAS THE REDESIGNATION FOR THE OLD CAP DELTA 4.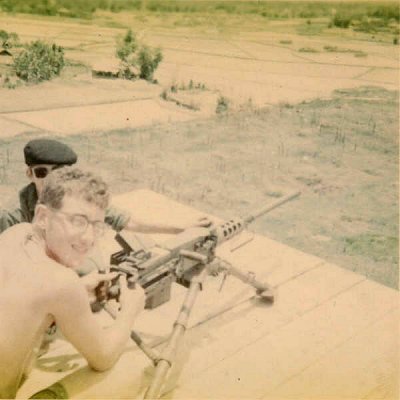 RICK AND P.F. ON TOWER
THEY ARE ON THE M-50 MACHINE GUN.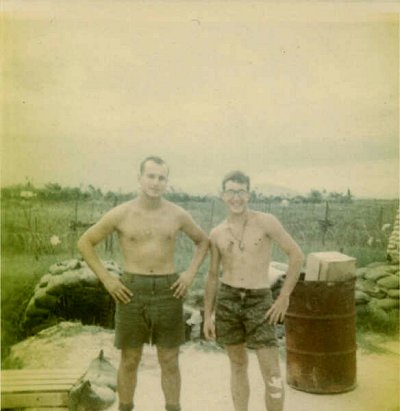 CPL LAZLO AMBROSE AND RICK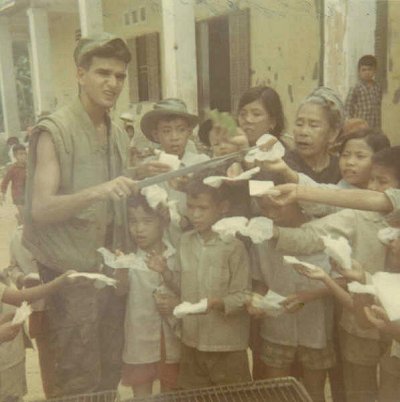 ONE OF THE CORPSMAN COOKING FOR THE KIDS
CAN YOU NAME THIS CORPSMAN?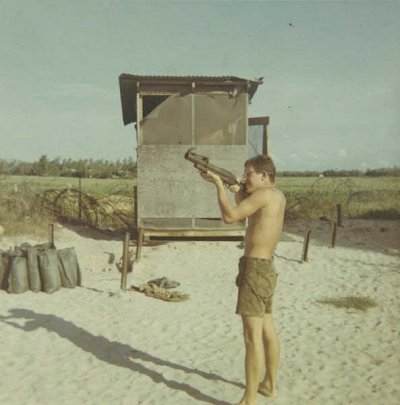 RICK WITH M-79
STANDING IN FRONT OF 'THE SHITTER'.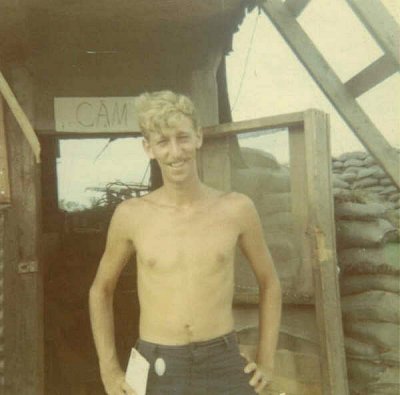 'DOC'
CAN YOU NAME THIS CORPSMAN?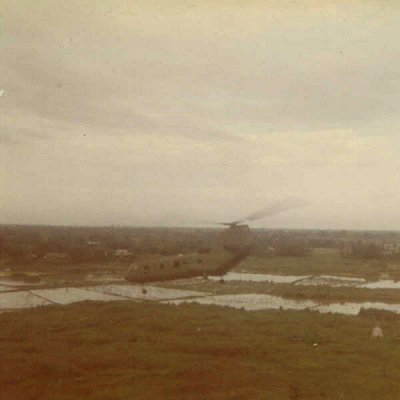 MEDIEVAC
VIEW FROM THE TOWER OF A CH 47 HELICOPTER COMING IN TO MEDI-EVAC A VIETNAMESE FARMER WOUNDED BY A DUD M-79 ROUND WHILE HE WAS CULTIVATING HIS FIELD.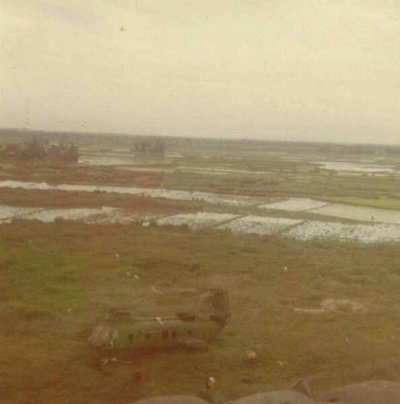 CH 47 LANDING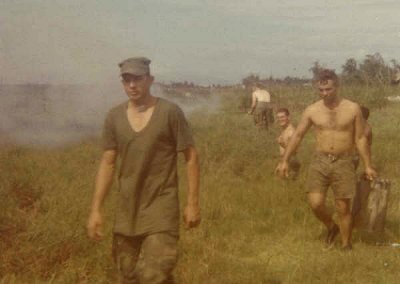 BURNING GRASS OUT OF THE WIRE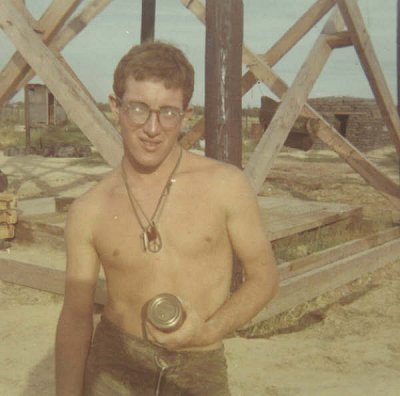 SPAGETTI C-RATIONS...YUMMIE!
RICK STANDING AT THE BASE OF THE TOWER BEFORE THE COMM BUNKER WAS BUILT.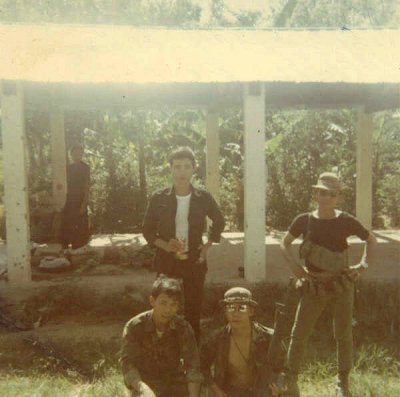 P.F.'s
SOME OF THE P.F.'s TAKING A BREAK WHILE ON PATROL AT THE EAST VILLAGE MARKET PLACE.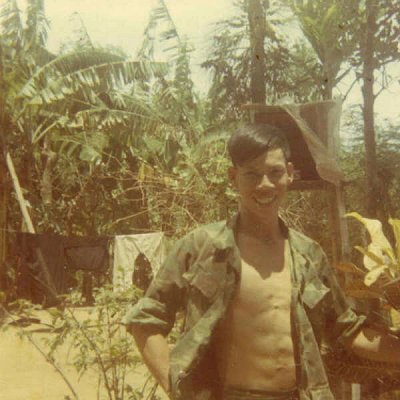 P.F. 'HONCHO'
WASN'T THIS GUY A SSGT. NAMED 'CHOW'?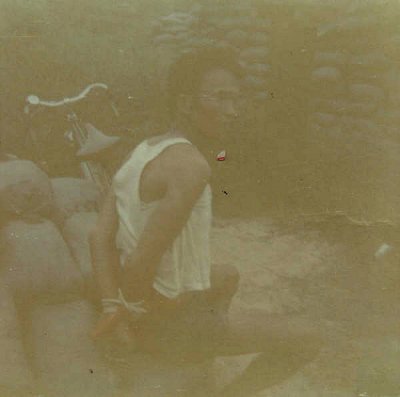 P.F. TAKEN PRISONER
THIS P.F. TURNED OUT TO BE A DEEP PLANT NVA OFFICER. ANOTHER UNIT FOUND AN NVA UNDERGROUND COMMAND AND CONTROL CENTER AND THERE WAS A ROSTER OF NVA OPERATIVES AND THIS MAN WAS ONE OF THEM...WHAT HAPPENED TO HIM...."DON'T ASK".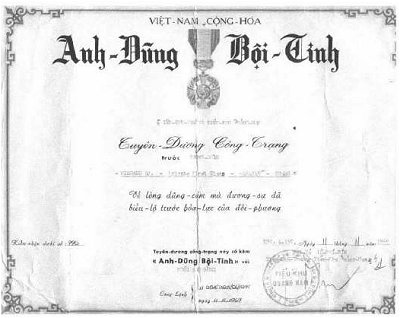 VIETNAMESE CROSS OF GALLANTRY WITH SILVER STAR
RICK'S CERTIFICATE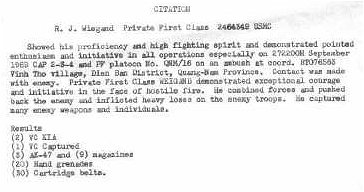 CITATION
RICK'S CITATION, IN ENGLISH, FOR HIS VIETNAMESE GROSS OF GALLANTRY WITH SILVER STAR.