| | |
| --- | --- |
| | UPDATES & SITREPS |

OCTOBER 5, 2000 - THIS JUST IN....ROCH THORNTON HAS SET UP A CAP VETERANS NET AT EGROUPS. TO JOIN, FOR FREE, AND START SENDING AND RECEIVING E-MAILS FROM OTHER CAP VETS USE THIS URL TO SIGN UP: http://www.egroups.com/group/CAPMarines . THE CAP VETERANS REUNION IS ABOUT A MONTH AWAY FOR MORE INFORMATION HERE IS THE URL: http://capmarine.com/cap/reunion2000.htm . NEW INFORMATION AND PHOTOS ARE BEING ADDED TO THE CAP DELTA 4 WEBSITES ALMOST DAILY. PICK THE SITE YOU LIKE BEST AND CHECK IN REGULARLY.
***
SEPTEMBER 28, 2000 - A LOT HAS HAPPENED IN THE LAST 10 DAYS. WE ADDED MORE STORES BY TOM HARVEY AND I'VE STARTED WRITING ABOUT MY EXPERIENCES. WE ADDED LOTS OF PHOTOS AND EACH DELTA CAP UNIT NOW HAS IT'S OWN PHOTO PAGE AT OUR MIRROR WEBSITES. THAT REMINDS ME DENNIS KIBLER HAS ADDED A TRIPOD AND GEOCITIES WEBSITE. DENNIS ALSO INTRODUCED ME TO ICQ CHAT LINES THOSE OF YOU WHO WANT MORE INFORMATION ON OUR OWN CHAT LINE LET ME KNOW.
***
SEPTEMBER 17, 2000 - WE JUST ADDED 34 NEW PHOTOS FROM JOHN P. 'PHIL' AYRES. THEY ARE OF THE 2-3-4 AREA IN THE 1970-71 TIME FRAME. 2-3-4 REPLACED DELTA 4 AND WAS A MOBILE CAP WHEN PHIL WAS THERE. THE OLD DELTA 4 COMPOUND WAS GONE BY THE TIME PHIL WAS THERE.
***
SEPTEMBER 15, 2000 - WE ADDED 15 NEW PHOTOGRAPHS FROM RICK YURICK, CAP DELTA 4 (CAP 2-3-4). RICK WAS THERE FROM APRIL 1968 TO JANUARY 1969. SEE IF YOU CAN NAME SOME OF THE UNIDENTIFIED MARINES IN THE PICTURES. THE NEW TRIPOD SITE IS ALL DONE EXCEPT ADDING SOME PHOTO SECTIONS. CHECK IT OUT, JUST GO TO THE HOMEPAGE AND CLICK THE URL...AND SIGN THE GUEST BOOK, SOMEONE'S BOUND TO BE LOOKING FOR YOU.
***
SEPTEMBER 11, 2000 - WE NOW HAVE TWO ALTERNATE CAP DELTA 4 WEBSITES UP AND RUNNING. ONE IS AT HOMESTEAD AND THE OTHER IS AT TRIPOD. YOU CAN FIND THE LINKS ON THE MAIN PAGE TO CHECK THEM OUT. IT'S TIME FOR ME TO GET BACK TO THE RESEARCH PART OF THIS PROJECT.
***
SEPTEMBER 10, 2000 - 33 YEARS AGO TODAY CAP DELTA 4 WAS OVERRUN WITH 7 MARINES KIA AND 7 MARINES WIA. I HOPE THE FAMILIES OF THOSE MARINES SEE THE SITE WE'VE SET UP TO PRESERVE THEIR MEMORY. WE ARE ALSO WORKING ON AN ALTERNATE TRIPOD WEBSITE. YOU'LL FIND THE URL ON THE LINKS PAGE.
***
SEPTEMBER 5, 2000 - THE WEBSITE WAS DOWN MOST OF THE WEEKEND. WE WERE EXPERIENCING BLANK PAGES AND COULDN'T ADD PHOTOS OR GRAPHICS. AS OF TODAY WE STILL DO NOT HAVE AN OPENING 'WELCOME PAGE'. I'VE GOTTEN A TREMENDOUS AMOUNT OF HELP FROM DENNIS KIBLER, ROCH THORNTON AND ALLEN CLEMONS. WE ARE LOOKING INTO ALTERNATIVES.
***
AUGUST 28, 2000 - WE HAVE ADDED TWO NEW MEMBERS WHO CAN HELP WITH THE TECHNICAL MATTERS. ROCH THORNTON, CAP 2-7-2 (DELTA 2 AREA) AND MSGT. DENNIS KIBLER USMC RETIRED. DENNIS AND ROCH ARE BOTH WEBMASTERS...I'M SO PATHETIC THEY CAME TO MY RESCUE. THANKS TO DENNIS WE HAVE OUR WELCOME PAGE BACK.
AUGUST 28, 2000 - I MANAGED TO LOOSE THE WELCOME PAGE TO THE WEBSITE EARLY THIS MORNING, HOPE TO GET IT FIXED...IF NOT I'LL BUILD A NEW ONE. OVER THE WEEKEND PARK MYERS ADDED A PHOTO OF HIMSELF AT 'THE LADS NOW' SECTION OF THE PHOTO ALBUM.
***
AUGUST 26, 2000 - SANDY WARDLAW JUST SENT US OUR TAOR MAP FOR THE DELTA CAP UNITS. IT'S NOW AT OUR MAP SECTION OF THE PHOTO SECTION. IF YOU WANT THE BIG MAP LET ME KNOW. WE'VE ALSO ADDED SOME NEW SECTIONS AND GRAPHICS.
***
AUGUST 20, 2000 - JUST TODAY PARK MYERS ADDED TWO NEW PAGES OF PHOTOGRAPHS TO THE PHOTO ALBUM. IF YOU RECOGNIZE ANY OF THE MARINES OR CORPSMEN IN THE PHOTOGRAPHS E-MAIL US AND INDENTIFY THEM. WE'VE ALSO ADDED SOME NEW GRAPHICS. YOU OTHER DELTA CAP MARINES THIS IS YOUR SITE TO TELL YOUR STORIES AND LOOK FOR FRIENDS.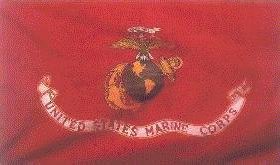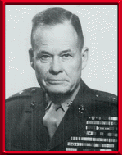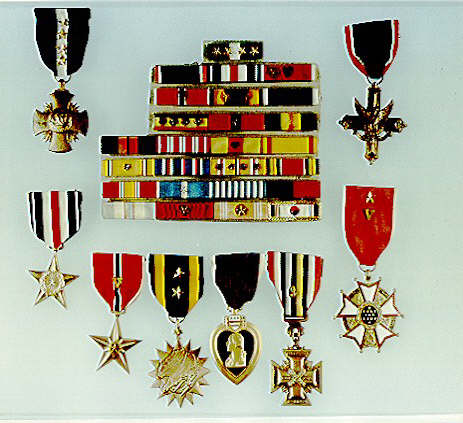 AFTER RECIEVING ALL THESE MEDALS, CHESTY WAS ASKED LONG AFTER HE RETIRED WHAT HE WOULD WANT IF HE COULD HAVE ONE WISH. HE THOUGHT FOR A MOMENT AND SAID QUIETLY, "I WOULD LIKE TO SHAKE HANDS WITH EVERY MAN I EVER SERVED WITH."
CHESTY PULLER'S MEDALS

"GOODNIGHT CHESTY PULLER WHEREVER YOU ARE!"

stovedup@hit.net