DELTA 4 CHRONOLOGY


SEPTEMBER 1966...GREG HAMMOND AND OTHER MARINES START CONSTRUCTION OF BUNKERS AT CAC 1.
MAY 15, 1967...LCPL PHILIP EMERSON, CPL. ORTIZ AND TWO OTHER MARINES ARE KIA WHEN UNIT IS ATTACKED. ABOUT THIS TIME THE UNIT'S DESIGNATION IS CHANGED TO DELTA 4.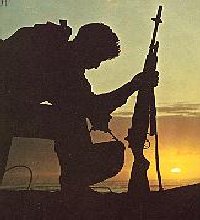 SEPTEMBER 10, 1967...UNIT IS OVERRUN, 7 MARINES KIA, 7 MARINES WIA.
SEPTEMBER 16, 1967...CPL. CLAY, LCPL MCEVOY AND LCPL MARKLEY ARRIVE AS REPLACEMENTS.
SEPTEMBER...SEABEES BEGIN WORK ON FRAMEWORK FOR NEW BUNKERS.
OCTOBER....UNIT AND SURROUNDING VILLAGES ARE FLOODED.
OCTOBER...MARINES WHO HAD BEEN TAD TO DELTA 4 MOVE NORTH WITH THEIR UNIT, 5TH MARINES. RD (REVOLUNTARY DEVELOPMENT) TEAM UNIT REPLACES THEM AT NIGHT. TWO NIGHTS LATER RD TEAM AND ONE MARINE FROM DELTA 4 AMBUSH VIET CONG AND NVA UNIT. ONE ENEMY KIA.
OCTOBER 23...OBSERVATION PLANE SHOT DOWN ACROSS THE RIVER FROM THE UNIT. PILOT'S CALL SIGN WAS 'BEECHMARK 4' OR 'BENCHMARK 4'. DELTA 4 REACTIONARY FIRETEAM PROVIDED SECURITY FOR THE PILOT AND THE PLANE.
OCTOBER...JANSEN'S PATROL IS PINNED DOWN BY HOSTILE FIRE JUST OUTSIDE THE COMPOUND. ONE OF THE PF'S 'BONE' DRIVES THE ATTACKERS BACK WITH AN M-79 GRENADE LAUNCHER.
NOVEMBER 5...LCPL. AL BERTULLI KILLED WHEN A PF SET OFF A CLAYMORE MINE HE WAS SETTING UP.
NOVEMBER 10...MARINE CORPS BIRTHDAY WAS NOT CELEBRATED. ATE C-RATIONS AND WENT ON PATROLS.
NOVEMBER...'DOC' JOHN NEWMAN AND ONE OF THE MARINES DELIVERS VIETNAMESE BABY.
NOVEMBER...MARINE ENGINEERS CAME OUT TO BUILD TWO HOOCHES AT THE UNIT.
THANKSGIVING...'BEECHMARK 4' DROPPED MESS HALL CANISTERS FILLED WITH HOT STEAKS AND WARM BREAD FOR THE MARINES.
DECEMBER 2...TOM WALKER'S PATROL AMBUSHED AT DELTA 2, 3 MARINES KIA ONE SURVIVOR.

DECEMBER...F-4 SHORT DOWN ON SOUTHERN END OF DELTA 4 TOAR. DELTA 4 REACTIONARY SQUAD PINNED DOWN IN SAND DUNES. SPOTTER PLANE CALLED IN NAPALM ON ENEMY POSITION.
DECEMBER...'BEECHMARK 4' DROPPED SMALL TENSILE CHRISTMAS TREE AND PLAYBOY MAGAZINES FOR MARINES CHRISTMAS.
DECEMBER...LARGE NVA FORCE SPOTTED MOVING AROUND THE OUTSIDE OF THE PERIMETER. LARGE FIREFIGHT RESULTED IN SOME OF THE VILLAGERS COMING INTO THE COMPOUND THE NEXT DAY FOR TREATMENT OF WOUNDS. ONE OLD LADY WAS MEDI-EVACCED BY HELICOPTER.
DECEMBER...ONE PF MEDI-EVACCED WHEN HIS FOOT WAS NEARLY BLOWN OFF BY A FOOT MINE JUST OUTSIDE THE COMPOUND.
DECEMBER 25...PATROLS DAY AND NIGHT. SGT. JOHNSON AND MEN PREPARED B-RATION HAMBURGERS FOR CHRISTMAS DINNER.
DECEMBER 31...NEW YEAR'S EVE SPENT ON PATROL. AUTOMATIC WEAPONS FIRE BETWEEN COMPOUND AND THE PATROL THAT WAS OUT, NO CONTACT.
JANUARY 2, 1968...INTELLIGENCE REPORTED A LARGE NVA FORCE WAS GOING TO ATTACK DELTA 4. A DELTA 4 FIRETEAM LINKED UP WITH A FULL PLATOON FROM 1ST MARINES TO SET AN AMBUSH AND ACT AS A REACTIONARY FORCE ABOUT 2000 HOURS THAT NIGHT.
JANUARY 3...IN THE EARLY MORNING HOURS DELTA 5 WAS ATTACKED AND OVERRUN. ELEVEN MARINES KIA INCLUDING CPL. CLAY WHO HAD BEEN TRANSFERRED FROM DELTA 4. TWO MARINES EDMUNDS AND MARKLEY WERE TAKEN TO DELTA 5 TO PROVIDE SECURITY AND CLEAN UP THE UNIT.
JANUARY...INCIDENT WITH KOREANS HARASSING LOCAL VILLAGERS. FIRETEAM FROM DELTA 4 WENT TO REPORT IT TO THE COMMANDING OFFICER OF THE KOREANS. THE KOREANS WERE DISCIPLINED ON THE SPOT BY THEIR OFFICERS AND NCO'S. KOREAN C.O. SAID HE WOULD SEND OVER CAMMO FATIGUES SO HIS PEOPLE WOULDN'T FIRE ON THE DELTA 4 PATROLS.
JANUARY...DELTA 4 FIRETEAM NEARLY WALKED INTO AN NVA AMBUSHED. FIREFIGHT ENSUED NO FRIENDLY CASUALTIES.
JANUARY...COMPOUND TOOK FIRE FROM ACROSS THE RIVER. PUFF WAS CALLED IN. SGT. JOHNSON'S HAND WAS INJURED TRYING TO GET A LAW TO FIRE. HE WAS MEDI-VACCED BY JEEP THE NEXT DAY.
JANUARY 19...LCPL MARKLEY WIA BY AUTOMATIC WEAPONS FIRE WHILE LOADING AN M-60 IN THE NORTHEAST BUNKER. MEDI-VACCED OUT BY HELICOPTER.
JANUARY 24...CPL. JANSEN WHO HAD BEEN TRANSFERRED TO ANOTHER DELTA CAP UNIT DIED OF SUSPECTED POISONING.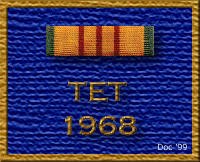 JANUARY 30...TET OFFENSIVE OF 1968 BEGINS.
FEBRUARY 17...CPL. NOBLE KIA WHILE THROWING A GRENADE IN A BUNKER.
MARCH 7...CPL BRITTON KIA, SHOT AT MAIN GATE.
APRIL 30...SGT. PAUL JOHNSON KIA WHEN THE TRUCK HE WAS RIDING IN HIT A MINE.
MAY 23...GYSGT. TOM ACTON AND CPL STEVEN OLSEN KIA ON THE WAY TO HOI AN.
AUGUST 16...CPL. ROBERT GARDNER KILLED IN ACCIDENTAL EXPLOSION.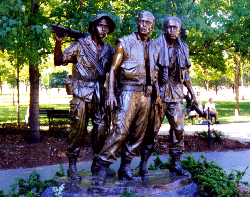 If you like this website, cast a vote for us by clicking on the image below. Thanks.