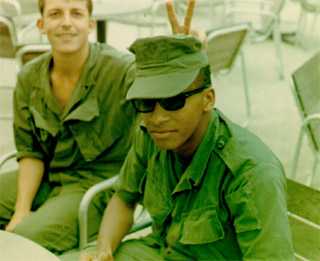 THE BLACK MARINE IN THIS PHOTOGRAPH AND THE NEXT TWO, TOOK THESE PICTURES AND ASKED MEL TO GET THEM DEVELOPED AND SEND THEM TO HIM... BUT MEL LOST THE ADDRESS. MEL THINKS HIS NAME WAS LEE. SO LEE, HERE THEY ARE OVER 30 YEARS LATE BUT HERE AT LAST.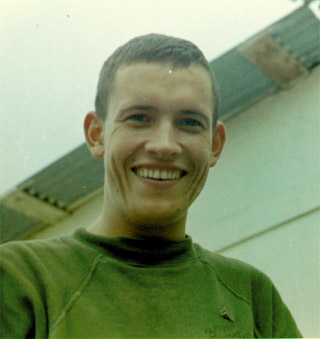 DO YOU KNOW THIS MARINE'S NAME? FROM THAT SMILE HE MUSH HAVE JUST EATEN THE CHOW THERE AT THE 2ND CAG MESS HALL.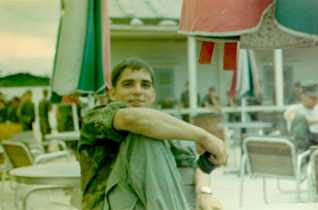 CAN YOU PUT A NAME TO THIS MARINE?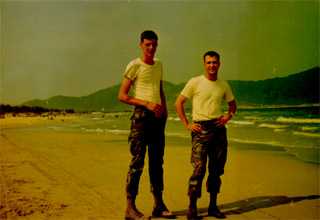 CPL. MUGSFORD AND MEL AUST ON THE BEACH AT 2ND CAG HEADQUARTERS.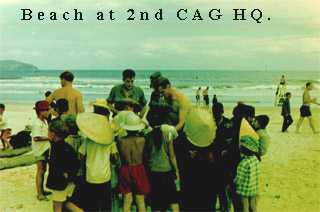 THE BEACH, CHINA BEACH, AT 2ND CAG HEADQUARTERS, DANANG, RVN, 1969
VIETNAMESE LANGUAGE SCHOOL CLASS JANUARY 1969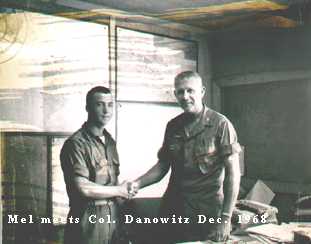 COL. DANOWITZ WAS THE COMMANDING OFFICER OF 2ND CAG. HE WAS AT THIS YEARS CAP VETERANS REUNION.


THE PHOTOGRAPHS BELOW ARE FROM AN ARTICLE THAT APPEARED IN THE MAY 2, 1969 ISSUE OF THE 'SEA TIGER'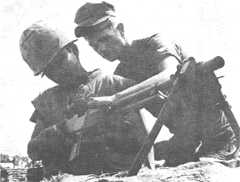 Cpl. John E. White (Victorville, Calif.) shows a PF soldier how to load and operate a Browning Automatic Rifle. Both are CAP 2-5-4 members.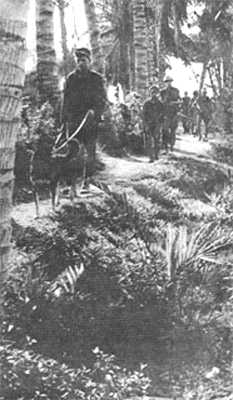 Cpl. Thomas T. Archer (Mobile, Ala.) and his scout dog, King, point up a Mobile CAP 2-4-3 patrol through Thanh Taxy hamlet.
LCpl. Charles A. Smith (Ft. Wayne, Ind.) 2-4-3, cleans his equipment as a fellow Marine keeps a lookout for enemy troops at Thanh Taxy hamlet near Hoi An.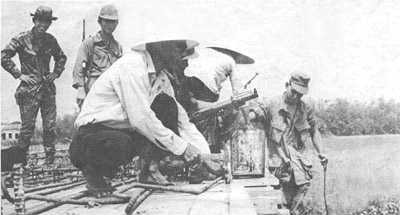 Marine, PF's and Civilians combine to build a road from Hoa Vang to Tung Lam. Pvt. Gary Hutchinson, 2-5-3, waters down fresh concrete.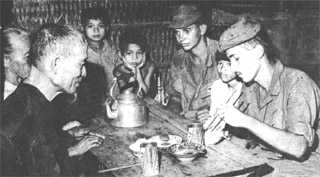 Pfc. John McClancy (Maspeth, N.Y.) and Pvt. Gary Hutchinson stop for some food and gossip with a friendly Vietnamese in Lo Guang hamlet. Mobile CAP 2-5-3 spends each night in a different location in the village of Hoa Doa.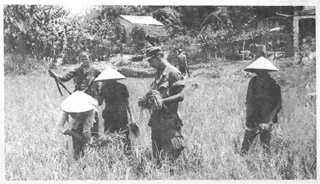 Pvt. Gary Hutchinson (Easton, Kan.) helps Vietnamese harvest their rice crop under the watchful eye of Cpl. David P. Shiftlet (Oklahoma City, Okla.) CAP 2-5-3 Marines help protect the rice crops of Lo Guang hamlet form the VC.